Hermeticism: Is there more to life?
Explore your full potential with the practical courses of the Hermetic Academy!
Hermeticism shows you a way to understand the inner reality behind the outer appearance.
The online courses of the Hermetic Academy help you to overcome the fear of existence, to find the meaning of life and to defeat the fear of death. The online instructions are written in contemporary language and teach you theory and practice. For thousands of years, the unbroken tradition of Hermeticism has preserved these proven and powerful tools of study, meditation and ritual. These hermetic tools provide orientation and support you in unfolding your inner potential.
One compact lesson weekly

24h/7 days a week: at your own pace
8 exciting basic courses, which you can immediately implement in your life
We believe that you will be very interested to learn more about the courses of the Hermetic Academy, because many people who want to realize themselves are among our students.
Know thyself!
Perhaps you are one of those people who have always tried to understand the world in which you live. If the search for wisdom and knowledge is persistent, then the path leads to an authentic mystery school. There have always been mystery schools like the Hermetic Academy. Mystery schools were the spiritual centers of many ancient cultures. In the online training of the Hermetic Academy, we entrust you with the true esoteric tools and teachings that used to be accessible only to the inner circle of a few initiates.
8 powerful in-depth courses that reveal your life plan
After completion of the 8 exciting basic courses we will give you access to a rich treasure of hermetic tradition.
1. Mighty Symbols of Hermeticism
2. Master Keys of the Kabbalah
3. Hermetic Astrology
4. Alchemy – Transmutation of Lead to Gold
5. Martinism – the Journey of the Heart
6. The Mystery of the Rosicrucians
7. Hermetic Words of Power
8. Transformation of the Creative Power
For whom is the Hermetic Academy suitable?
For people who want to develop their personality
For people who are looking for the meaning of life
For people looking for basic answers
For people who want to understand the life plan
For people who want to find out the cause of their life situation
For people who want to expand their spiritual thinking
For people who want to realize their potential
For people who want to explore the hidden knowledge of mysteries
Prerequisites
A minimum age of 18 years
A commitment to human dignity, freedom and self-determination
You need a web-enabled PC, notebook, tablet or smartphone
You do not need any previous knowledge to be able to study at the Hermetic Academy
Features of the Hermetic Academy
Lesson Notes
With the Lesson Note feature, you can capture your inspirations and write them down as personal notes. You can save these notes and recall them later.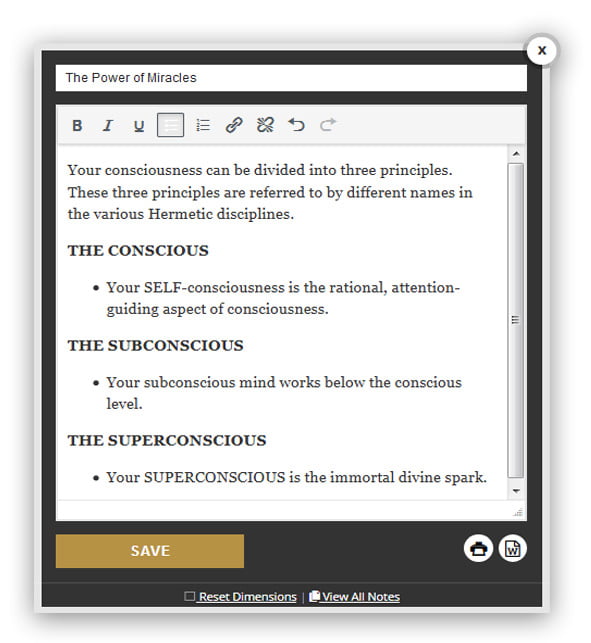 Read Aloud Assistant (Upgrade)
You don't feel like reading or are on the road and can't read right now? Then activate Hermetic Voice and have our lessons read to you.

Fit for all end devices
Whether on the desktop, tablet or smartphone – our website adapts to your end devices.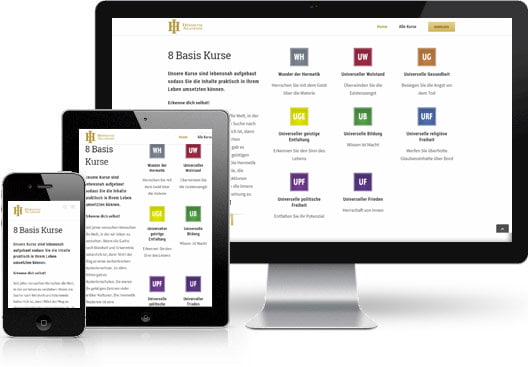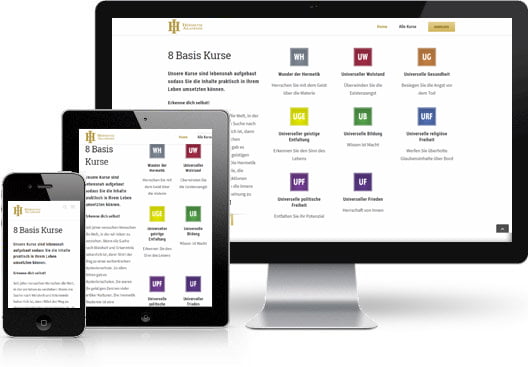 "Knowledge is power" (Francis Bacon)
Mystery schools then as now use the best possible medium to disseminate teaching.
Long ago, teachers of mystery schools taught secret knowledge only from mouth to ear. The writing of writings took several years. Reproducing books was very time consuming and costly. Through Gutenberg's invention of book printing, the Guardians of Timeless Wisdom were able to make this teaching accessible to more people. In our time there is the Internet. Thus we can grant you and numerous other people worldwide access to the Timeless Wisdom. Timeless wisdom is imperishable and endures for all eternity. However, the medium of transmission is adapted to modern possibilities by the guardians of teaching. Never before has it been so easy and in such a short time possible to receive these grandiose teachings. But, of course, it is your decision whether you, like thousands of other people, would like to seize this opportunity.
What you should know about the Hermetic Academy?
The vision of the Hermetics Academy is to be the platform for the world's best spiritual education system that supports people in achieving worthwhile goals, virtues and spiritual refinement. The Hermetic Academy was founded by Dr. Elias Rubenstein and his dedicated Hermetic Team to teach and preserve timeless wisdom. The three pillars of the Hermetic Academy have always been study, meditation and ritual. The Hermetic Academy entrusts you with these unique and powerful tools.
The term "hermeticism" comes from Hermes. In Greek mythology, Hermes is the mediator between mind and matter. Hermetics conveys a consistent view of the world. For thousands of years, the wisdom tradition of hermetics has guarded the tried and tested tools for the spiritual unfolding of man. The essential terms of hermetics are explained in the Hermetics Glossary. Self-knowledge helps us to gain a greater understanding of life and to react to it. The online courses of the Hermetic Academy are available in German, English and Spanish. The mission of the Hermetic Academy is to make the most effective proven methods of personality development and spiritual self-knowledge available in the most modern way as a global market leader.
You are standing at a gate of wisdom, behind which the greatest secrets are accessible to you, as long as you are prepared to receive them.
"As above, so below; as below, so above." (2. Hermetic Principle, The Kybalion)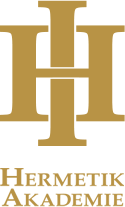 The Hermetic Academy in Numbers
What's Science saying?
FINDING MEANING…
has a positive influence on physical and mental health.
leads to happiness.
causes a longer life.
is associated with worthwhile goals.
SPIRITUALITY…
can increase mental and social health.
encourages the development of human virtues such as honesty, courage, reliability, altruism, generosity, forgiveness, self-discipline, patience, humility, and other qualities that promote social relationships.
provides an opportunity to explore identity and self-understanding related to religion and ideology.
is the quest for the rediscovery of dignity, for interweaving and networking, comprehensive healing and an ethic of encompassing love.
is related to psychological well-being and emotional stability.
MEDITATION…
has a healing effect.
strengthens the resistance.
increases attention.
reduces anxiety.
reduces stress.
has a positive effect on social competences.
IMAGINATION…
has an effect on our emotional attitudes in the same way as experience.
has the power to shape reality.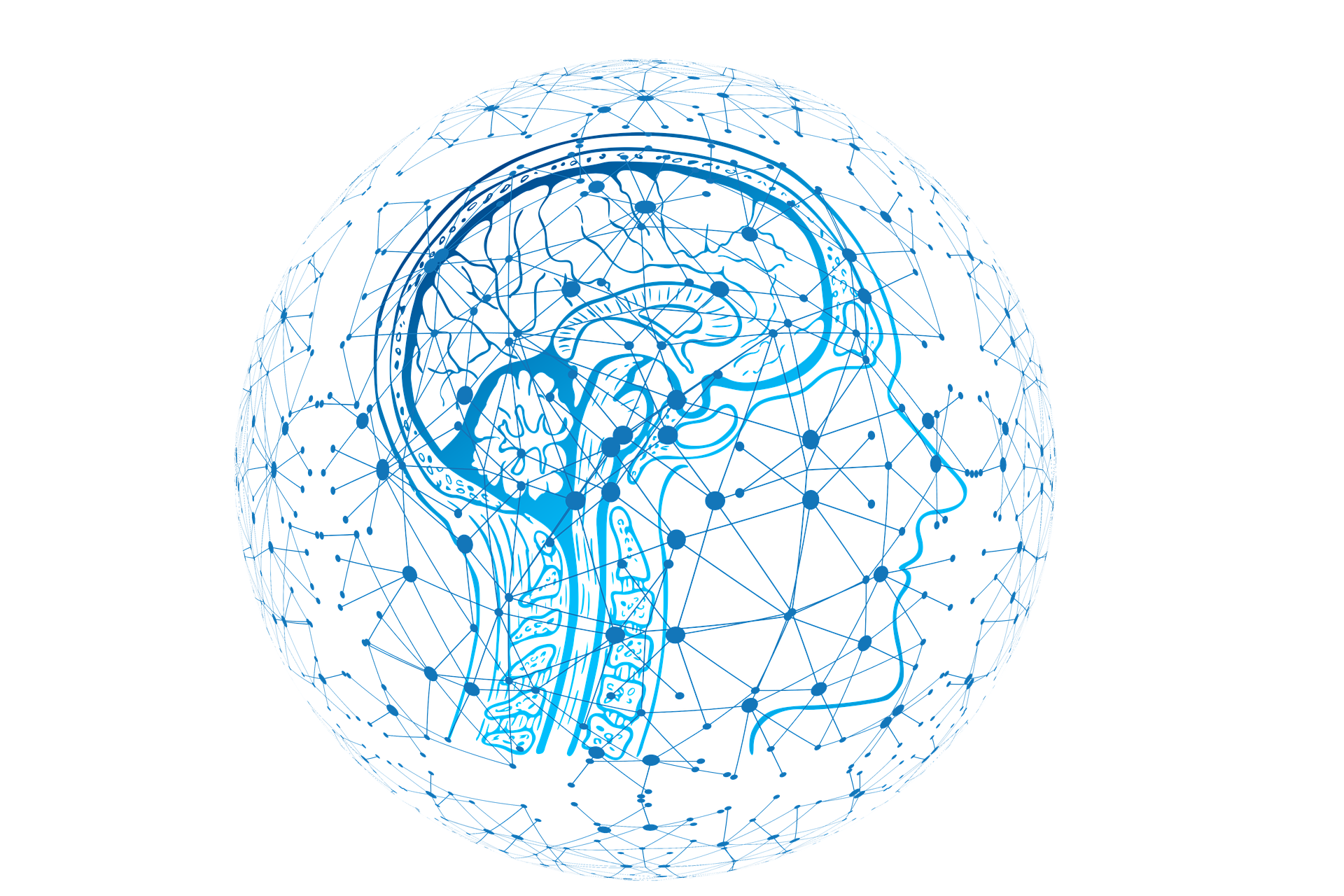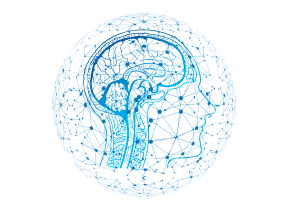 What do famous historical persons say?
Frequently Asked Questions (FAQ)
Courses are online with optional events for student interaction, and support is available for queries.
Hermetic Academy
2023-11-09T19:10:47+01:00
You can freely allocate your time for this. The lessons are online and can be studied from anywhere in the world at any time (distance learning, e-learning). You can invest a few minutes or hours per week. It depends solely on you and your interest as well as commitment. You can also pause the course; once the lessons have been unlocked, you can go back and re-read them as often as you want.