Dr. Elias Rubenstein is director of the Hermetic Academy. He is an entrepreneur, author, lecturer and artist. Rubenstein studied Leadership and Management and obtained his doctorate in economics.
Until 2011, Rubenstein was director of the Austrian company Zeitlose Zeremonie (translation: Ageless Ceremony). Rubenstein has an open ear for those who seek advice regarding personal conflicts with the values, ethics, and abuse of power of institutional churches. Through the customized wedding and baptismal ceremonies offered by Zeitlose Zeremonie, Rubenstein has made it possible for people, regardless of their religious beliefs, to find support and solace in meaningful rites of passage.
Rubenstein founded the Hermetic Academy in 2013. As director, he has helped make the teachings of "ageless wisdom" accessible to a broader circle of interested people. The Hermetic Academy shows the way toward grasping the inner reality behind outer appearances, as well as overcoming existential angst, feelings of futility, loneliness and powerlessness, and the fear of death.
He preserves the heritage of  the "l'Ordre de Chevaliers Maçons Élus Coëns de l'Univers," which was founded in 1765 by Don Martinez de Pasqually.
The content of his publications and works consists of the teachings and symbols of kabbalah, hermeticism, Jewish and Christian mysticism (gnosis) and spiritual alchemy.
As recognition for his outstanding merits and accomplishments, Rubenstein was awarded an honorary doctorate as well as an honorary senatorship. He was also distinguished as an Ambassador for Peace by the Universal Peace Federation.
"From the bottom of my heart I am deeply convinced that the unique teachings of the Hermetic Academy can help you to achieve more freedom, peace and fulfillment." (Elias Rubenstein)
Dr. Elias Rubenstein's website: www.elias-rubenstein.com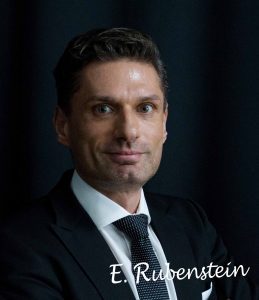 Dr. Elias Rubenstein – The New Age already startet!